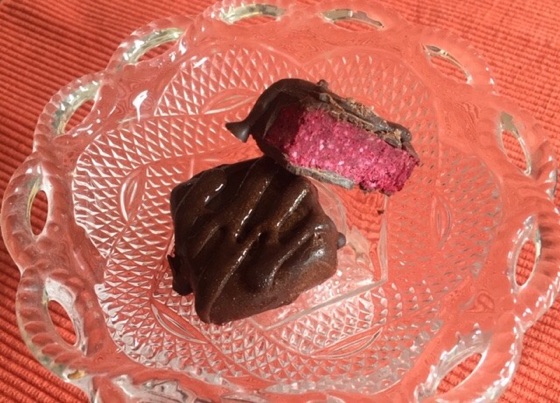 Raw Beet And Coconut Chocolates
Ingredients
1 medium size beetroot
3/4 cup almonds (or use half almond pulp and half whole almonds)
1/2 cup desiccated coconut
5 dates
1 pinch of sea salt
Chocolate Sauce:
1/4 cup melted coconut oil
100g raw cacao butter (melted)
75g coconut oil (melted)
50g raw cacao powder
50g raw carob powder (or use more cacao if you want)
Directions
Place the first 6 ingredients into a food processor and process into a dough.
Spread the dough onto a non-stick backing or dehydrator sheet. Approximately the thickness of your thumb.
Shape it into a square, try to create fairly neat, straight edges, then cut into bite small squares.
I managed to get 12 slices.
Transfer to the freezer while you make the chocolate sauce.
Chocolate sauce:
Blend all above ingredients into a smooth sauce.
It's more than you need to cover the beetroot slices, but that's fine.
You'll just have some sauce for use in breakfasts, other cakes or to make hot chocolate (just add hot plant milk)
So now transfer to a small bowl.
Remove the slices from the freezer and dip them one by one in the chocolate sauce.
The sauce should set fairly quickly on the slices.
Place them back on the non-stick sheet and back into the freezer.
Once they are nice and cold again, you can take them out and either dip them again for a double layer,
or do what I did, which is to drizzle the sauce over the slices to create a pattern.

Save Recipe
You Might Also Enjoy These Recipes: